Productization engineer / computer vision.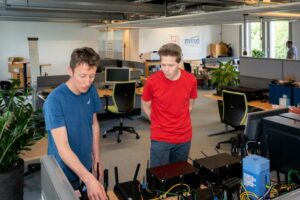 We are looking for our new productization engineer. Do you fit the underneath description then apply today!
Skills
You're an experienced C++ and Python software developer. You have a thorough understanding of hardware and software interaction (electronics, interfaces, drivers, Linux, applications). Moreover you have a passion for converting a prototype into a maintainable quality RTLS (Real Time Location Systems) product for industrial customers. You're interested in embedded computer vision applications (AI based) and you work systematically.
Interests
You're interested in the following topics. Having experience in some of them is even better, of course.
You're willing to learn new location based and other technologies and you're able to quickly assimilate new information on your own.
Topics:
Embedded systems
Sensors and interfaces
Linux, root filesystems and upgrade strategies
Enclosure design
Remote systems administration
Prototype design and verification
Wireless communication
Computer vision and algorithms (AI Artificial Intelligence)
Convolutional neural networks
Perform tests in our lab and at customers' sites
Computer networks and security
Web technologies
Language(s)/ Location
Fluent in English

and

Dutch or French
Hybrid, minimum 2 days a week in the office
Environment
You'll be working in a in a small team of highly skilled developers where you'll develop and take ownership of part of a computer vision product.
You are ready to work in an international context.
Essensium is a product company that designs, sells and provides support for a real-time safety system. Focus on the product is of utmost importance.
Why work for us? Check out our 5 key reasons to join us at Essensium here.
Interested in joining us as our new productization engineer?
Send us your motivation and cv with the job title to info@essensium.com.
Return to the job section, click here.